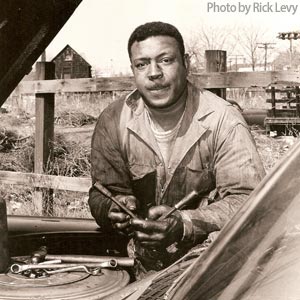 Watch the trailer for Karmu: A Place in the Sun
Karmu gave herbal medicines to everyone who came to see him. He would give people either "red" medicine in a drink which was herbal "black" medicine disguised in a sangria like fruit punch, or he would hand them capsules of "black" medicine or give them a  straight shot of his  decoction of black medicine.  Hardly anyone who came in his house didn't get something to ingest.  This use of herbs was unique during this time period.
In 1968, there were not health food stores in every major city.  It wasn't commonplace; there were not multiple health food stores nor were they any chain stores such as Whole Foods in major cities.   If there was a store, it had bins of raw herbs, not prepackaged jars of herbs and herbal compounds lining the shelves. In 1968, there was only one herb store, in Cambridge. When Karmu needed Aloes, he had someone place an order with Dick Martin, the owner of Attar. It had to be a special order, as they didn't have  60 pounds of aloes in stock.
Karmu's most  used  herbs were aloes, goldenseal, valerian, snakesroot, Life everlasting, to name a few.  These were the backbone of  "black" medicine.  While his use of herbs was unusual for the period, now it now seems commonplace.…